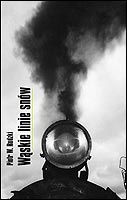 "Wąskie Linie Snów"
(Narrow Gauge Dreams)
Author: Piotr Rudzki
Printing sold out. Please don't order or send payment!
Just before 10.06.2001, passenger services were operated on only 9 of PKP's narrow-gauge lines. Right before their liquidation, Piotr Rudzki traveled on these lines, photographed them, and has beautifully written about them in his book. The author has conjured up the unreplicable climate of railways which have departed and won't return. This is a sentimental book!This is a documentary book!
The book includes numerous photographs, reproductions of timetables, tickets, and rubber stamps as well as a color supplement with 48 unique, history photographs of narrow gauge railways from the archives of the Railway Museum in Warsaw.

Narrow gauge lines: Krosniewicka (to Ostrowy), Krosniewicka (to Boniewo), Stargardzka, Ełcka, Śmigielska, Krotoszyńska, Średzka, Koszalińska, Rogowska.

"Wąskie Linie Snów"
(Narrow Gauge Dreams)
In Polish, A5 format, 328 pages (296 black and white, 32 color), 223+48 photographs, reproductions of timetables, rubber stamps, and tickets.

Sand Railways Vo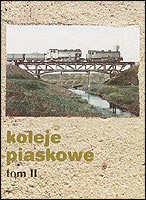 lume II - Photograph Album
A4 format, 352 pages
Price 94,- zl.
Printing sold out. Please don't order or send payment!
Railway book-photograph album of sand railways. Owners will have at their disposition a one-of-a-kind collection of photographs illustrating the workings of these industrial railways in Silesia, which are of unprecedented scale. You will find 346 pages with 578 photographs, both black-and-which and colour, from the years 1910÷2002 (including 121 from before 1945, some in colour!). Some of the best photographs are in A3 format. Ony 29 of the photographs have been sporadically published previously. The remainder are never-before seen, and include 14 different views ofthe TKz class from the 30's, and 37 pictures from the most famous accident. You will also find: different views of British electrics (including the control cabin), previously unknown types of wagons, as well as many other unexpected photos. The text is in Polish and German. The publisher is Apland sp. z o.o. in Katowice.