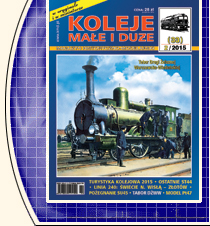 Koleje Małe i Duże 2/2015(33)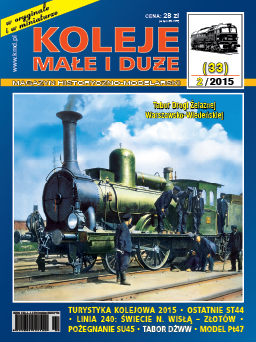 Editorial – As seen from a train window ...1
The opening of the Pomorska Kolej Metropolitalna ...3
Railway tourism 2015 ...4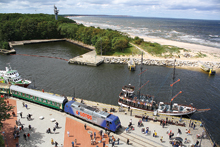 Due to the ever decreasing number of vintage steam, diesel and electric locomotives that are still operational it is our intention to capture and preserve on KMiD pages the events and special trains which were operated this year using vintage rolling stock. As usual historic locomotives can be seen hauling special trains that operate in conjunction with the (still) regular events such as the "Steam locomotive parade" in Wolsztyn or "Parowozjada" in Chabówka. Special trains that can qualify as highlights traverse interesting railway lines that also disappear into oblivion and are organised by railway enthusiasts joined in clubs and societies. Recent years have brought a wide and versatile range of tourist trains - under a TurKol.pl brand - organised by the Instytut Rozwoju i Promocji Kolei, in cooperation with PKP Cargo S.A. as the owner of the locomotives, Przewozy Regionalne sp. z o.o. as the operator and the Marshall Office of the Wielkopolska Region as an entity co-financing the project. The article presents a summary of the tourist trains that were operated in 2015 hoping that the majority of these will also be organised in 2016 and the years to come. Lucjan Jeziorny

Międzychód 2014, 2015, ... ...10
With an SP42 through Wielkopolska ...14
Farewell to the SU45s ...18
The last non-modernised class ST44 locomotives ...22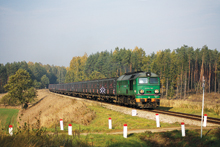 All the non-modernised ST44 diesels that remain in working order (23 locomotives in October 2015) have been grouped in the Central Division of PKP CARGO S.A.. Most of the machines have been allocated to Białystok and may currently be seen on the non-electrified lines around Czeremcha, Ełk, Białystok and Suwałki. In accordance with the requirements of the newly developed Maintenance System Documentation (DSU), the operational limit of the locomotives is now set not only by the locomotive's mileage but also by the period of operation. For the ST44 locomotives these have been set at 12 years or 400.000 km between overhauls (P4 maintenance level) and 32 years or 1.600.000 km between heavy general repairs (P5 maintenance level). The introduction of new locomotive maintenance rules as of the end of October 2015 meant that all of the locomotives that met at least one of these new criteria had to be withdrawn immediately. In case of ST44s 6 locomotives have been sidelined and more will follow in due time. The article includes their list together with withdrawal dates.

Railway line 240: Świecie n. Wisłą – Złotów ...26
170 years of the "Warsaw - Vienna Railway"
• People ...34
• Rolling stock ...40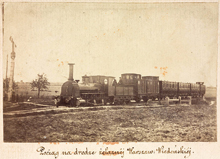 The 70th anniversary of the opening of the Droga Żelazna Warszawsko-Wiedeńskia (Warsaw-Vienna Railway) (1845÷1915) coincides with the period of the greatest development of the railway, including its steam locomotives - from the first, primitive machines to the most advanced designs. The post-war literature on the subject contains only a few publications on the highly interesting technical aspect of the overview of locomotive classes used on the DŻWW. Now it became apparent that these include repetitive mistakes, even the appearance of the first locomotives is seriously inconsistent with their actual dimensions. The overview of the rolling-stock construction received from Bogdan Pokropiński and used for the preparation of KMiD 2015 collector's calendar to celebrate the 170th anniversary of DŻWW has inspired research, review of a fair amount of period studies and comprehensive management reports of the DŻWW company as well as confronting these with the existing factory records and drawings (!) of contemporary steam locomotive manufacturers. The multi-page article presents only the basic research results that has been summarized with a table presenting all types of steam locomotives, their serial and inventory numbers that were carried by them on the DŻWW. The presentation of full data collected would require a book to be published, as the volume of the data exceeds the size of a magazine. Andrzej Wilk

My H0-scale Pt47-93 ...64
"Floating" axle suspension ...69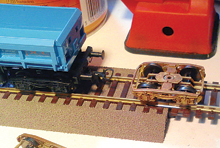 Striving for the greatest possible accuracy of miniature locomotive and wagons from the very beginning American modellers used wheelsets with RP25 wheel flanges, which became a standard also in Europe, to the extent that it is now very rare to see a factory-built model with wheelsets built to the NEM 311.1 (1996 r.) standard – with straight flanged wheels. Such wheelsets look nice, however a problem arises - how a vehicle with such wheelsets is to be kept on track without derailing. A commonly used, natural solution in all model vehicles, let alone on full-size railway, is an independent suspension of each wheelset. The same desired effect can be achieved by applying an identical solution in miniature. Beautiful models of steam locomotives with RP25 wheels incorporate independent wheelset suspension. The same would be useful in wagon bogies. When building a model of a Tr203 steam locomotive I used the better quality Bettendorf tender bogies by Kadee (unsurprisingly offered primarily to American modellers) with a movable bogie frame - just like in an original bogie - as well as the torsion beam sprung by a miniature spring. The article presents the construction of such bogie, as well as my experiences with a 25TN bogie offered by Witold Fita (Fitowagony), with radial axle mounting. Roman Kozak

TT-scale RŻD sleeping cars ...72
Our library: Electric Railways in Lower Silesia ...74
Ads and club forum ...78
MTP HOBBY in Poznań - summary ...80
"D.I.Y." - BR 231-063 locomotive in PCC Rail Szczakowa S.A. livery ...III
.